Top page
DCEXT board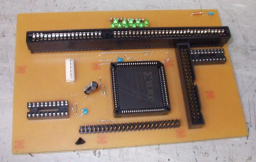 maintained by Kiyoshi IKEHARA
Nagoya University Amateur Radio Club, Japan
Notice:

Please don't e-mail me asking how to make a hardware.
And, all information in this site may be used at your own risk.

News:

2002/11/29: FBK's revised pattern released
2002/06/19: FBK's extension board pattern released
2002/06/17: DCEXT Logic and a patch for NetBSD kernel
I wrote a VHDL code and MD parts of some drivers for DCEXT board. This is the third step to make my dreamcast a standalone workstation.=) The first step is here. The second is here.
Patch
Hardware
Sorry, I just provide you source files. There is no documentation and no time to write it.
(Of course, I think we should show you how to build.)
Logic
PCB
Parts List

Xilinx XC95108-15 (PLCC 84pin)
74ALS245 x2
ISA slot x2
25x2 pin header x1
20x2 pin header x1
84 pin PLCC socket x1
etc...

Related-links
---
counter:

(since 2002.6.19)
ikehara AT c03.itscom.net
This page is the sole property of Kiyoshi Ikehara and merely mirrored by FuzzyMuzzle.com. Please direct all questions regarding this mirror's content to Kiyoshi Ikehera himself.